We're excited to introduce Automated Donor Invites, available on all fundraising campaigns today. Automated email sharing is the best and fastest way to meet your fundraising campaign goals without spending hours and hours doing 1-1 outreach.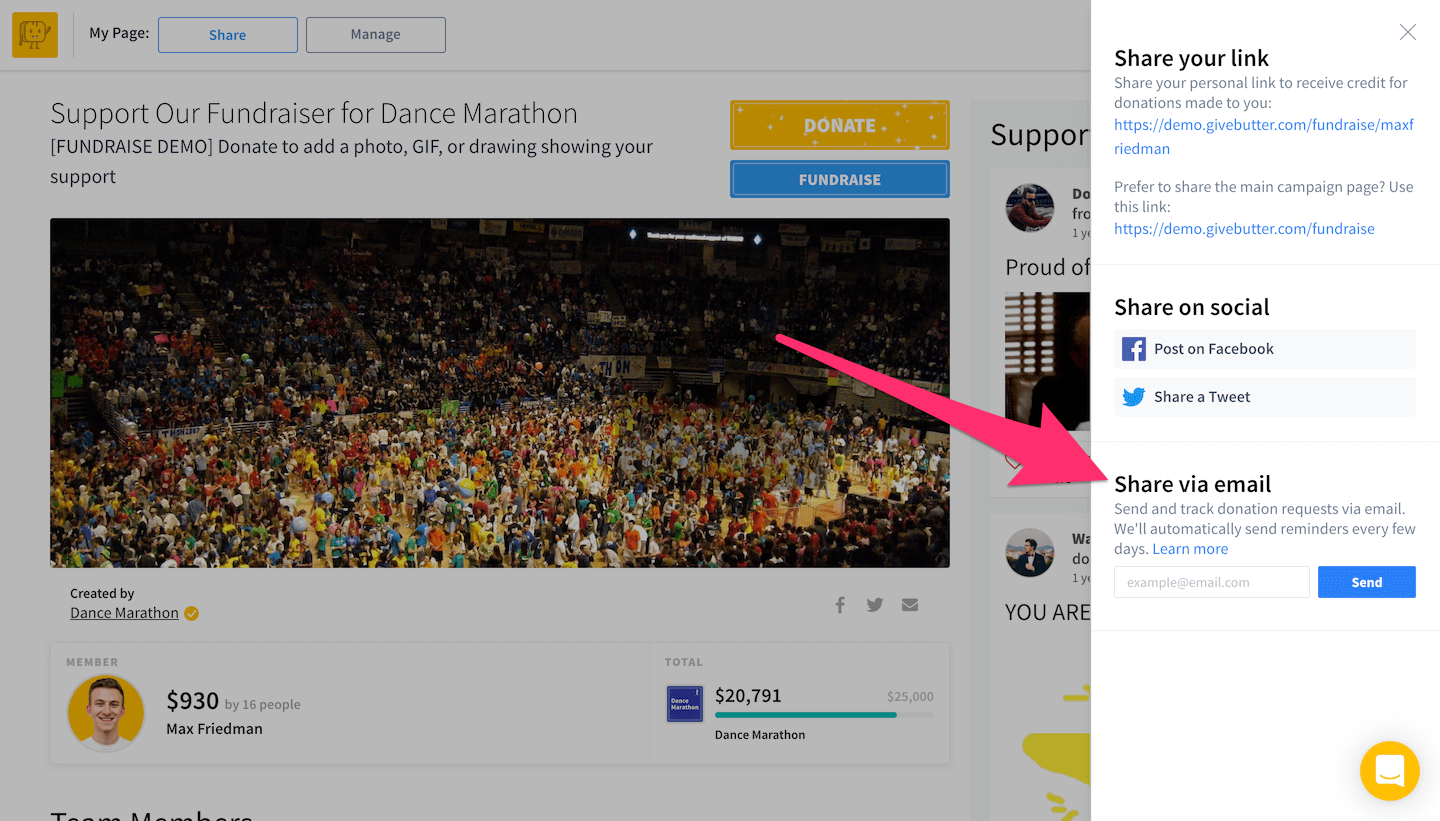 💌 When you enter an email address, Givebutter will send an email inviting the person to donate to your campaign
🥳 When someone donates using your invite, we'll credit that donation to you
🧐 We use intelligent link tracking to ensure you get credit for a donor, even if they don't use the invite link directly
📨 We'll send automatic email reminders every few days, if the people you've invited haven't donated yet
🖥 View all the people you've invited to donate and see if they've donated yet or not
👨‍👩‍👧‍👧 All members on your team can use this tool to share with their friends and family
💰 View how many emails each member sent out and how many converted to donors
🌄 Actual cover photo sizes
By default cover photos on your Fundraise pages are automatically resized to fit different device sizes. Sometimes, this functionality isn't desired (ex: when a cover photo contains text). You can now choose to use the actual cover photo size and dimensions. In the Details tab of your campaign dashboard you'll notice a new switch to turn this on.
💰
All Payouts are now free.
We've removed the $3 fee on payouts under $1,000, so you keep more of the money you raise.
📃
Read more button for long descriptions.
On Collect campaigns with long descriptions, we've added a Read more button.
🤩
Collect campaigns now feature an account info bar.
This info bar shows information about your organization (like your EIN, if applicable), as well as social icons for sharing.

Commas on the checkout page now appear correctly
Fixed a few bugs when using embedded forms on certain sites
new
Fundraise
Collect
Platform
We're excited to announce that monthly recurring donations is officially available in beta. If you're interested in being part of our beta program, let us know by messaging us on the bottom right hand corner of our site.
Accept monthly recurring donations using credit cards, Venmo, and PayPal
Donors can update, pause, or cancel their plan at anytime
We'll handle the customer support so you don't have to
Works seamlessly with embedded forms
View and manage all recurring donations in your Dashboard