Events have received a fresh coat of paint and some big updates!
The livestream feature has been relocated from the cover photo section to the event tab of the campaign. That means cover photos and livestreams can now coexist independently.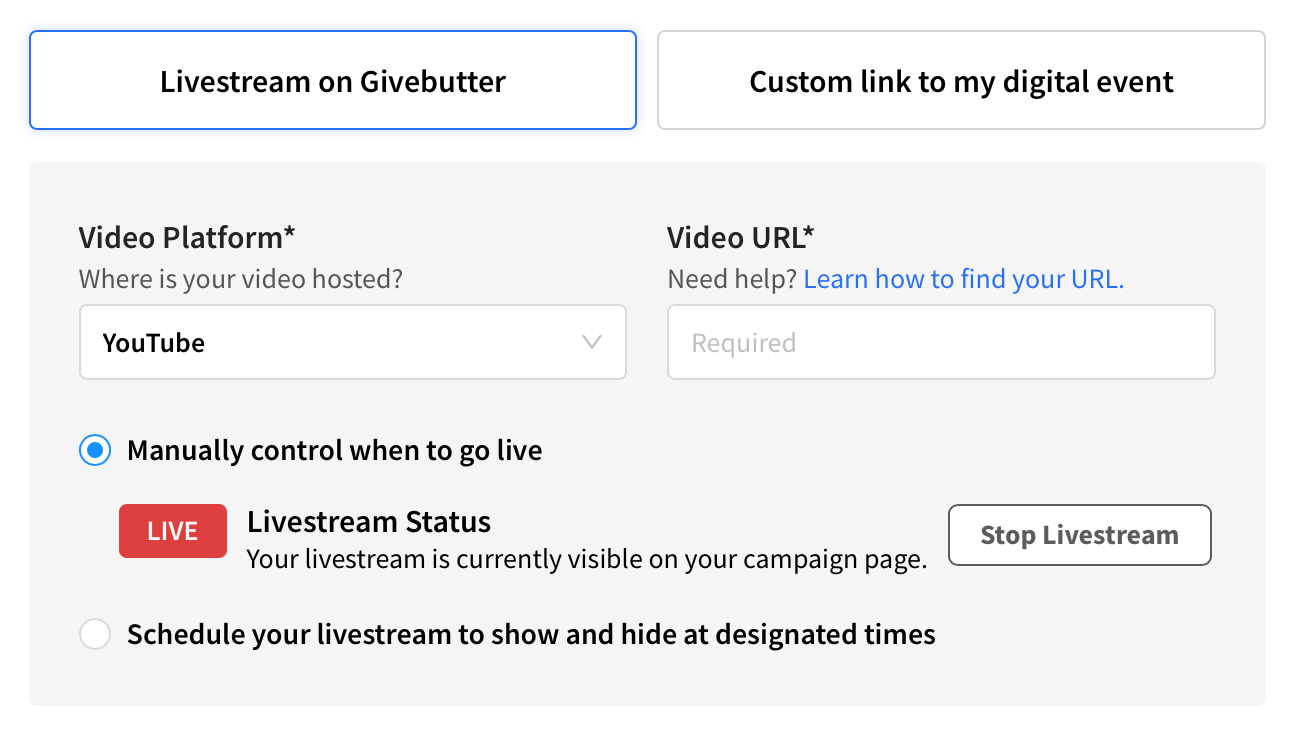 The core of this feature should feel similar to before. In addition, you'll have the option to schedule your livestream or control it manually. These new options give explicit control over when your patrons should see what.
Automatic Livestream Switching 🔁
When your livestream goes live, the campaign page will
automatically
replace your cover photo with your livestream (and vice versa) for active visitors when appropriate. They won't even have to refresh the page!
The livestream's end time is optional. Without it, the livestream will remain indefinitely as a replacement for the cover photo.
Digital Ticket Check-Ins 🎫✅
Previously, tickets were attached to email receipts and had to be checked in manually. This will continue to be the case for in-person events.
For digital events hosted on Givebutter, email receipts will contain a special link to the campaign page. This link will automatically check the viewer in when visited.

Email receipts sent to donors will now include calendar invites, which allow them to create a calendar event pre-filled with details pertaining to the event.
We've added reminders to events, which will be sent to all ticket holders 24 hours and 1 hour before the event start date.
We want to offer ultimate flexibility in these uncertain times. To accomplish this, we are rolling out
Hybrid Events
. Hybrid events provide the functionality of in-person events and digital events
in the same event
. You can host an in-person event for a select group while offering a livestream for the wider audience at the same time.
Tickets
- Tickets created for hybrid events will need to specify whether they are for the digital or in-person event. In-person tickets will have the PDF attachment, while digital tickets will have the "Check-in & Watch" link shown above.
Details
- Livestream details will be shown on the campaign page under its own section. They will also be in the description of calendar invites and relevant emails.