Free fundraising, forever 💫
We're rolling out new fundraising tools to help you maximize your impact: custom branding on everything, our very own nonprofit CRM, the ability to send targeted messages to your supporters, and a lot more. We've combined every feature we offer and included them with every Givebutter account—completely free, forever.
No more contracts, subscriptions, or paid plans 🙌
It's all included, and we are always adding new features.
Three new tools for you ✨
The launch of
Raise
,
Track
, and
Engage
officially sets Givebutter apart as the world's first completely free, end-to-end fundraising platform. It's the same Givebutter you already know and love, plus a whole lot more (with 70+ new & improved free features!)
Raise
- Create beautiful giving experiences that feel like magic
All the fundraising tools you've already come to love on Givebutter - donation forms, fundraising pages, and events. We're just giving this collection of features its own name to distinguish it from our new CRM and messaging tools.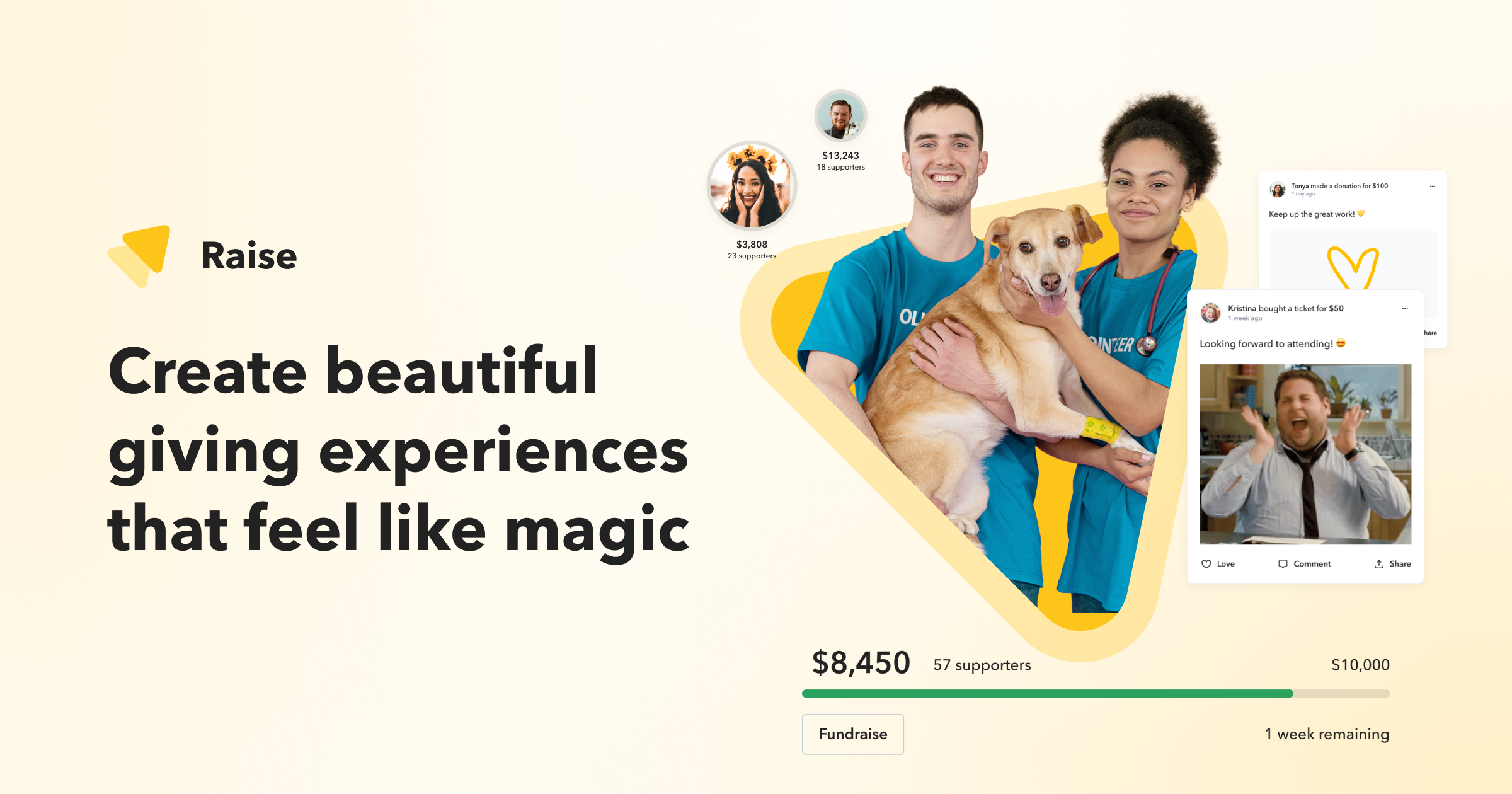 The most significant updates to Raise are:
Campaign pages now include your branding at the top of the pages
All supporter and team member facing emails now include your branding
Dedication emails are no longer plain text and use the same template as other emails
New simplified campaign type names (details below)
The new Raise name
All Givebutter accounts now have access to
Custom Branding
features across their forms, pages, events, emails, and tickets.
New simplified campaign type names 🤘
To make it even easier for you to quickly identify the appropriate
campaign type
for your fundraisers, we've updated the Raise campaign type names: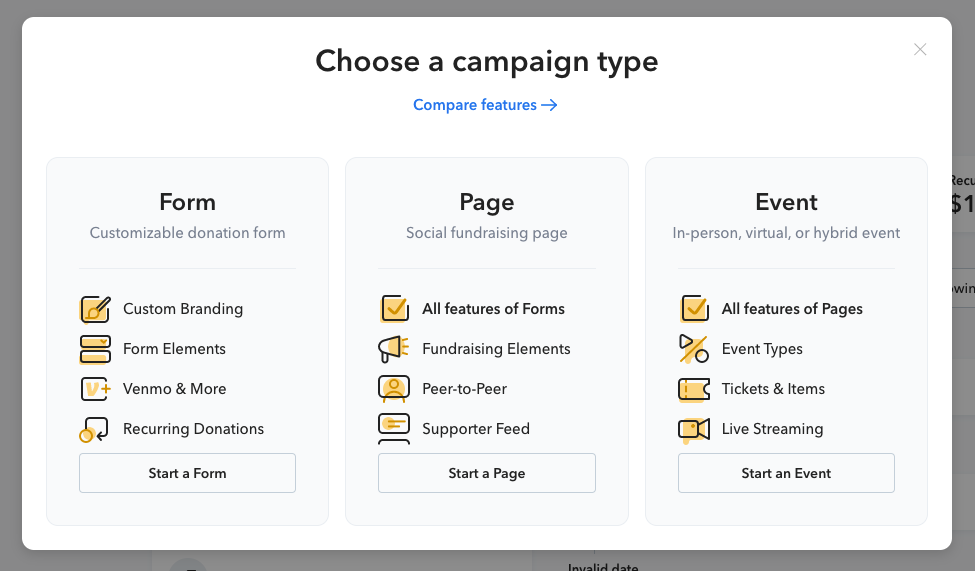 Track
- The world's first free nonprofit CRM.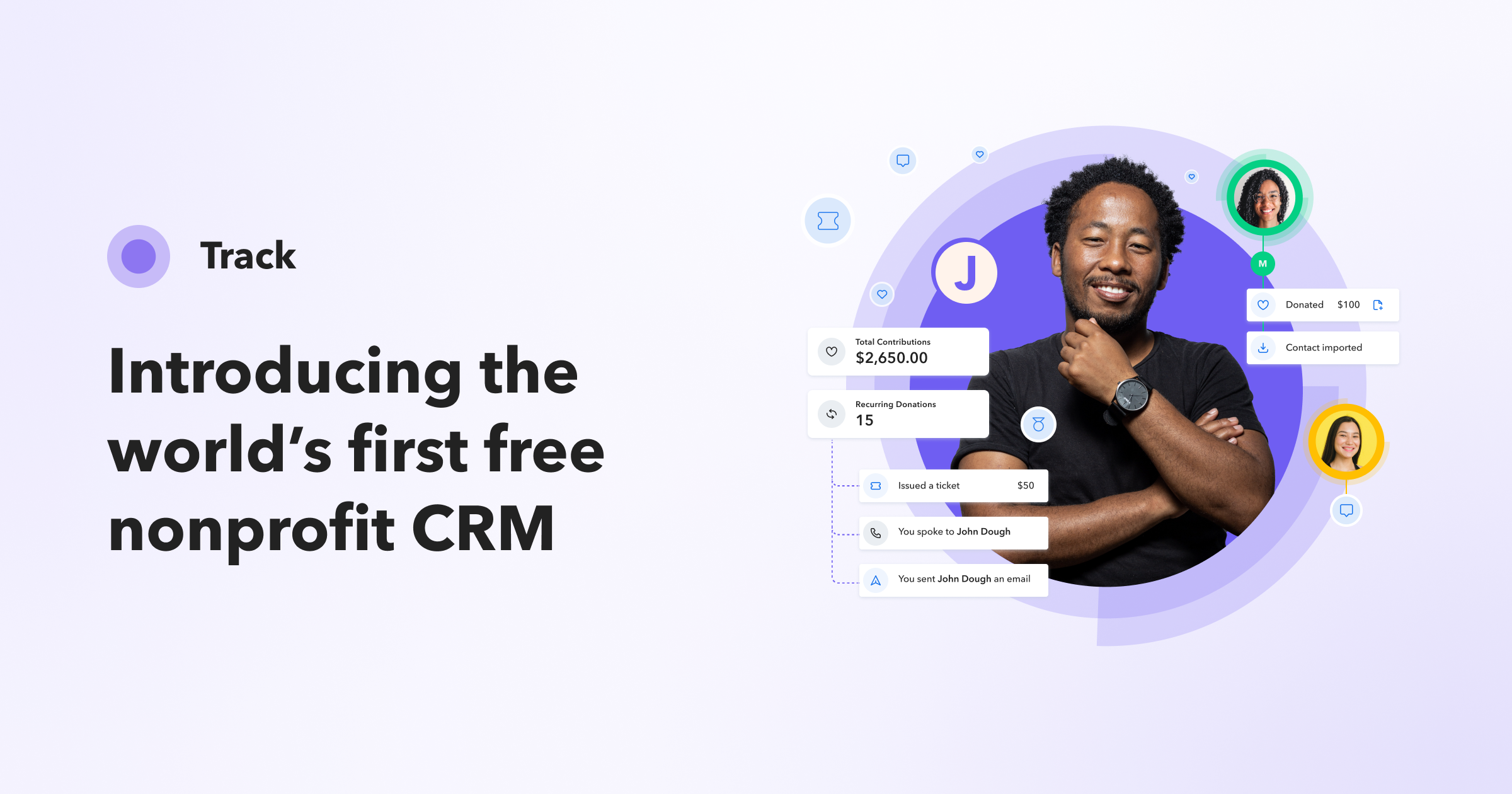 With Track, all your supporter data can be streamlined in one place. It includes unlimited contacts, email logging, data cleansing, de-duplication, tagging, custom fields, timelines, stats, segments, and more. Import contacts and recurring donors from another system, or start from scratch. We'll automatically create and update contacts from activities such as donations, tickets, and emails, or you can manually log your own. Track is available in your dashboard now!
The most significant additions to Track are:
Added ability to save filters as Segments and apply them later. This feature is available on the following tables: Contacts, Transactions, Recurring Plans, Tickets.
Ability to sort inside tables
The dashboard now displays the contact name throughout instead of the original from the purchase so if you change the contact name it appears correctly
Import Contact from CSV / Excel or create manually
Add unlimited tags to Contacts and filter by all, any, or none of those tags.
Migrating Recurring Plans from an existing Stripe account
BCC & Forwarding address to track Contact emails outside of Givebutter
Resend a Ticket via the Dashboard
Engage
- Send personalized emails, texts, videos, and more.
If you've ever struggled to send targeted messages to your supporters based on their donation history, then you will love.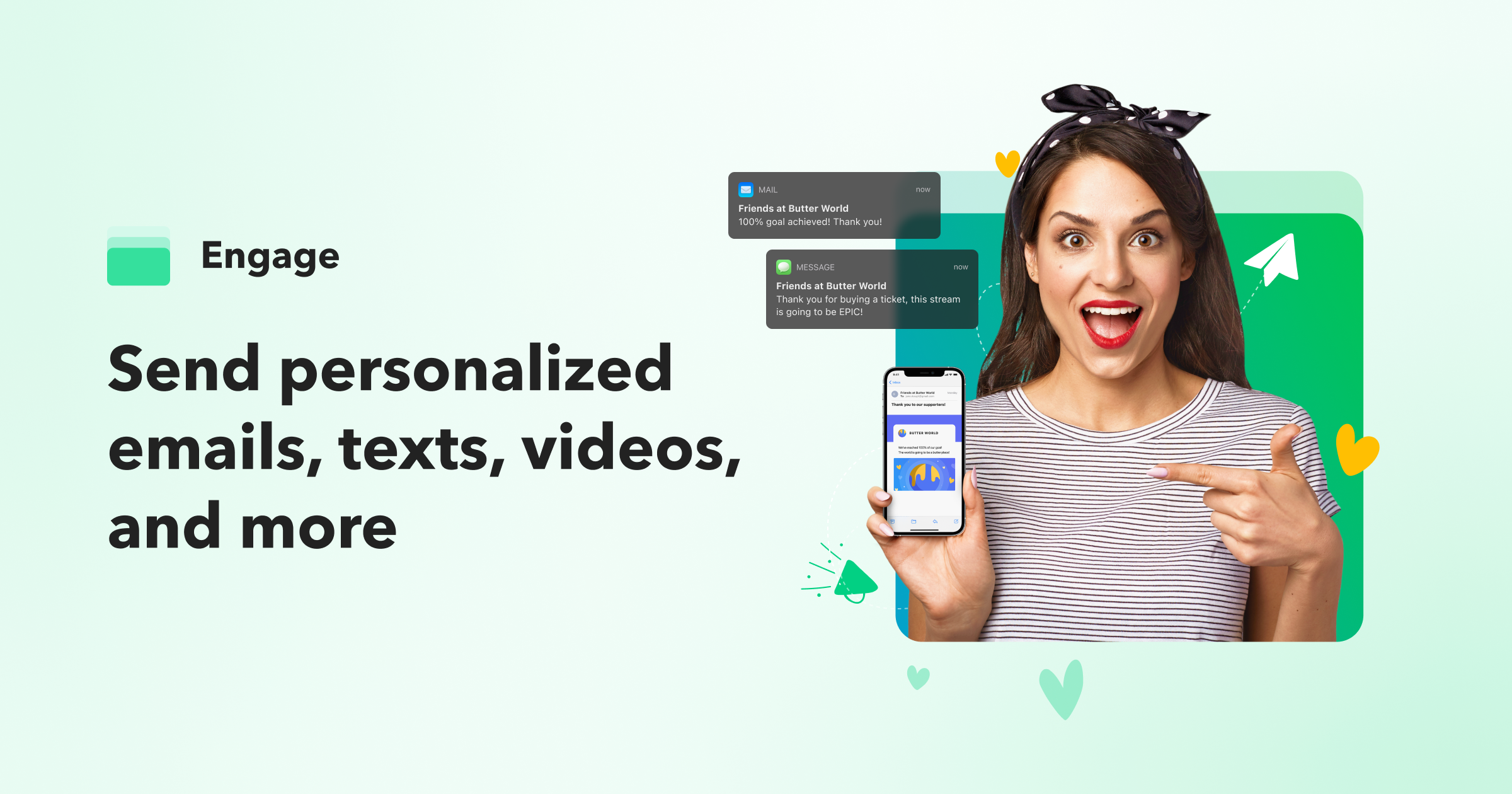 With Engage, you can easily send personalized messages to any segment of your supporters via email, or video. Connect your own email domain or use ours, and ensure your messages are always on-brand and personalized with your logo, brand color, mail merge fields, a WYSIWYG editor, and a powerful Canva integration that will make your emails look incredible. Measure open/bounce/unsubscribe rates to improve your messages over time.
The most anticipated new features inside Engage are:
Campaign Updates: Post and pin an update to the Supporter Feed and optionally email that update to supporters.
Outbound Emailing: Send email messages to your contacts and track metrics related to your message after it's been sent, Delivery/Bounced, Open rate, etc…
Connect a custom email domain and add email "Senders" that are used on the From/Reply-To fields
Build your email visually with text formatting options, upload images, embed video, and utilize a native Canava integration
Use "mail-merge" to add variables to your email for personalizing the text
Engage will be rolled out over the coming months as we improve based on your feedback and will, of course, always be completely free. Starting today, you can use Engage to post Campaign Updates to your supporter feeds. For everything else, be sure to Join the Waitlist to gain full access to Engage by visiting the "Engage" tab inside your dashboard.
A lot is staying the same 💛
Our platform is evolving, but our easy-to-use interface is only getting better with intuitive new features that anyone can sign up for and learn in minutes. Try it out!
Our marketing site is changing, but in a way that reflects an even clearer message to potential users about who we are, what we do, and why we do it. Take a look!
Our team is growing, but our fun-loving culture and commitment to impact are not going anywhere. Join us!